Remember from last week that I had a brief to complete ? Well, here we go: Claerhout, round 2.

The previous series covered the church and church yard of the hamlet of Kaster, where J. Claerhout served as a parish priest from 1911 to 1929, the year of his death. Claerhout's story begins in Wielsbeke however, where he was born in 1859 and where a statue (actually, a relief) of Claerhout and a young boy was presented to the public in 1980.
Oddly, the relief shows Clearhout giving a pigeon to the boy, while the text on the pedestal below refers to him as an archaeology pioneer. As Claerhout was known for giving children some coins to look out for pot shards and flint tools when they were working on the fields, I would have thought the act of instilling children with an interest in the past, would have been a more appropriate theme.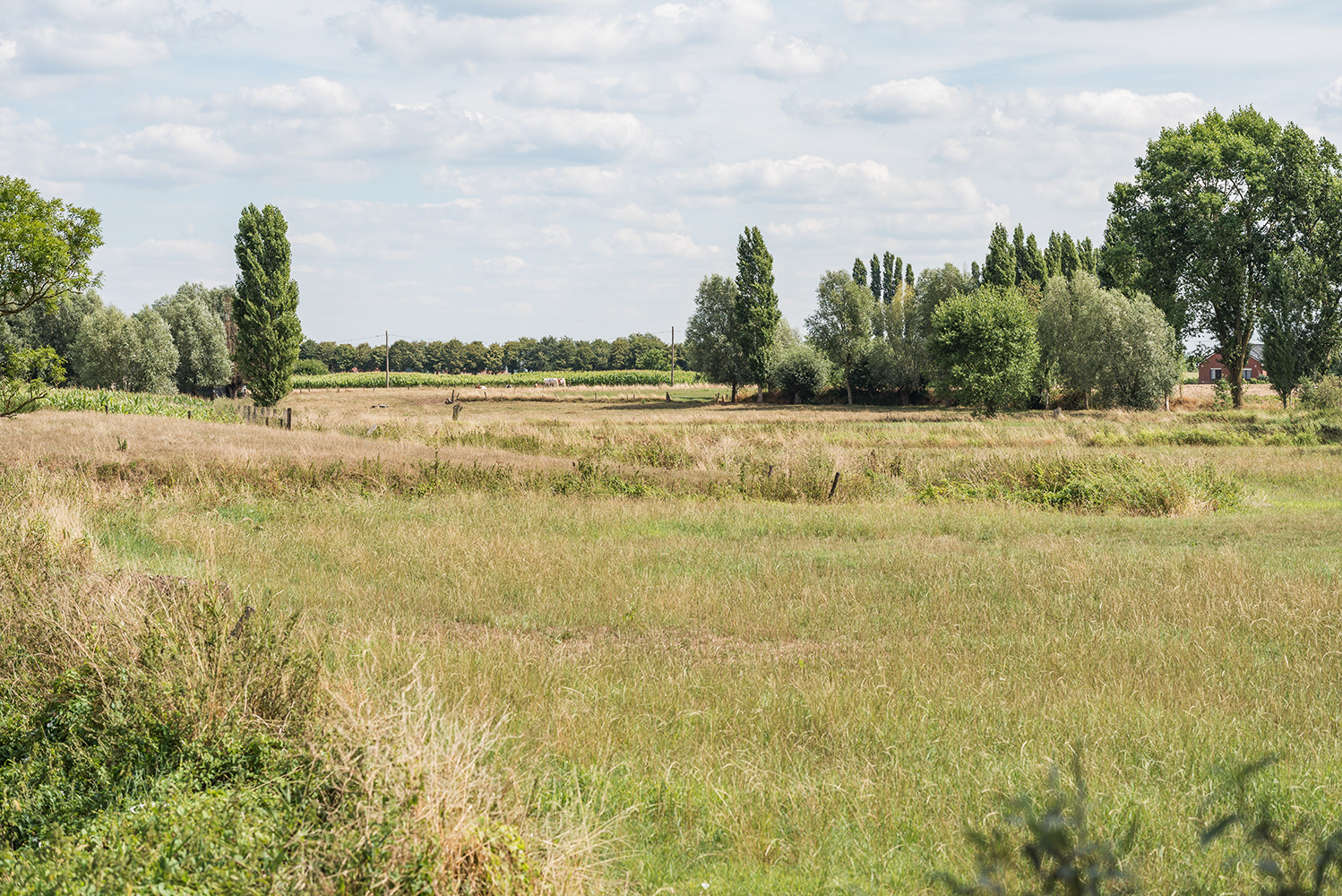 Funnily enough, as I just found out, between 1884 and 1887 he taught at St. Joseph's College (Tielt), a secondary school founded in 1830 which I myself attended (longer ago than I care to admit); unfortunately, the building was marked for demolition a couple of years ago.

In 1896, Claerhout conducted an excavation of an area known at least since the 16th century as the Heathen Cemetary or Heidens Kerkhof (Pittem). There, he unearthed the partial remains of a number of Roman period graves, and 4 pristine Merovingian ones.
As can be expected, the area was consequently sliced up in lots, ready for construction. The new street was named after its historical moniker, the location of the graves itself sealed off with an otherwise unremarkable house. Predictably, the requested shot of the house went unused.
From 1898 to 1902, Claerhout was found digging in Dentergem, in the meadows of land owner and then village mayor Coucke. Situated in the valley of the Peperlaarbeek, the site yielded (occupation) traces dating back to the Neolithic, the Bronze Age, and the Roman period, as well as some measure of fame for Claerhout, who became rather notorious to subsequent generations of archaeology students for his most likely incorrect interpretation of the traces of wooden posts and boards as evidence of a lake/swamp/water settlement.
When I dropped by the visitor center of the Baliekouter in Wakken (not on the shot list, but I knew Claerhout was referred to in the exhibition), I was glad to see both viewpoints discussed, rather than merely the more spectacular one spearheaded by Claerhout himself. Unfortunately, at the same time, they seem to have invented a prehistoric period called "the lake settlement period".
And while I'm at it, sparing no one: our present day environment is characterised by a distinct lack of woods and nature, and the presence of buildings everywhere you look. Basically, the whole of Flanders, with few exceptions, has become one big, low density city, in which you move from one city or village center to another, without ever driving through open country.
Blame the urban planning - or lack thereof - during the seventies and early eighties, greed, and people who, despite the ever growing traffic jams and utility costs, are still after that house on the (no longer existing) countryside, surrounded by what they believe is nature, thus keeping the urban sprawl alive and kicking. Anyway, let's just say I knew it wouldn't be easy to deliver a number of landscape shots that could pass off as a believable representation of how the country side would have looked like about ninety years ago.
When I finally found what looked like a rather idyllic little spot from a few meters away (houses in sight, of course), turned out to be a brownish, dung polluted creek from closer by. I wonder whether that was the case 90 years ago too.
While the importance of Claerhout as an amateur archaeologist, antiquarian, linguist and teacher is not in question, it does lead one to wonder what we humans leave behind. Obviously in the case of Claerhout, there is the rather odd statue/relief in his birth place, a number of articles, and at the place he spent the last 18 years of his life, a placard on the church yard wall with a map of a trail bearing his name, a plaque with again, a relief, but this time with Claerhout holding a book, a pot, and a spade. There's also a street in Kaster named after him (fittingly, the one circling the church), and of course, this tomb. So it's fair to say he left more than most of us ever will.
Although sadly, the museum he founded in Kaster was dismantled soon after his death, I like to believe that the most important thing he left behind, is the memory not only of his drive to gather knowledge, but also of his relentless determination to disseminate what he had learned and discovered to a wider, layman audience. While the disappearance of his museum may very well have been some sort of harbinger of the ivory tower and neo-colonialist mentality that would become prevalent in archaeology during the decades following his dead, it's quite wonderful to see that the pendulum is once again swinging back in the other direction, with the current generation of archaeologists taking that moral obligation of dissimination to heart. And they are doing so not because the discipline is severely lacking in acceptance amongst the population at large (I blame politics, the construction lobby, money, and yes, archaeologists of the past for that), or because the archaeological endeavour exists only through the means society decides to set apart, but because the past is their passion, and they can't do anything else but share it.